Product
The Most Experienced Cooling Tower Manufacturer You Can Trust
Why We Are One of The Best FRP Cooling Tower Manufacturers in India
When it comes to leading cooling tower manufacturers- in India --look no further than PERFECT Cooling Towers. As a corporation, we pride ourselves on keeping a finger on the pulse of the newest innovations in cooling towers that offer our customers safety, efficiency, and durability. Our product portfolio offers cooling tower types for any and all situations. These critical elements have propelled Perfect Cooling Towers to become the technology leader among evaporative cooling tower companies.
Unlike regular cooling towers, Perfect's Cooling Towers come with shells made of anti-microbial resin to inhibit bacterial growth. What's more, this cooling tower features a unique construction design (steep side-to-side slopes and basin sweeper systems) geared at minimizing the risk of Legionella colonization. Even better, this water cooling tower can withstand strong chemical treatments, which means a much longer lifecycle, reduced costs and downtime.
Over the years, we've introduced various cooling towers in our product line to meet all of our customers' various needs. To substantiate our high emphasis on quality, we are continually training and cross-training our manufacturing staff. Our rigorous quality management system assesses every product's quality at every production cycle. Furthermore, we have quality checks for different materials and components used in the manufacturing process to meet and surpass general quality benchmarks. Our experience and expertise ensure that we deliver efficient and environmentally-friendly cooling towers.
Our Advantages
Perfect Cooling Towers contain single casing, Because they are rust and corrosion proof, Perfect's Cooling Tower Systems endure longer lifecycles.
Our overall maintenance is minimal and the tower shell does not require preventive maintenance which lowers cost and expensive downtime. The benefits are extraordinary!
Water chemistries and engineered Frp cooling towers combined translate into an extremely effective solution to water conservation as well as cost savings.
The term "Made in the India" speaks of quality, excellent craftsmanship, and a superior product. Perfect ranks as the technology leader among cooling towers manufacturers in India
We Manufacture Cooling Towers For
HVAC / Distilleries / Sugar Industry
Plastic Injection/ Blow Moulding Machine
Chemical / Pharmaceutical/ Heat Treatments
Milk & Dairy Plants / Cold Storage
Food/ Industries canning and juice
Water Cooled Air Conditioning systems & VAM Machines
Food/ Industries canning and juice
Iron foundries/ Rolling mills and wire mills
Oxygen Plants/ Bio Gas Plant & Renewable Energy Power Plant
Vacuum Pumps/ Gasifier/ Anodizing processes Plant
Die Casting Machine/ Water Cooled Air Compressors
Refineries/ Knitting/ Hosiery Mills & More
Have a look at some of our projects
Perfect cooling towers commits customer support both before and after the installation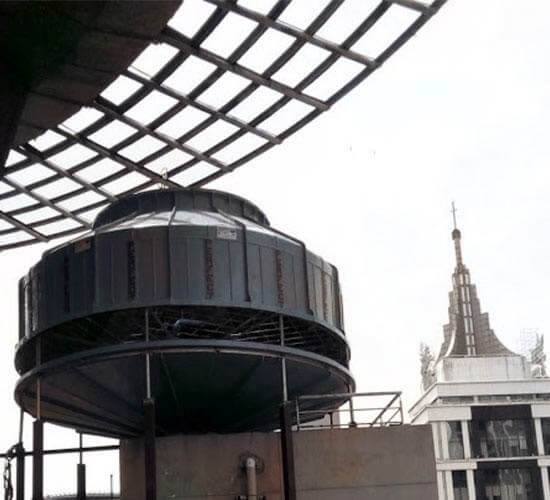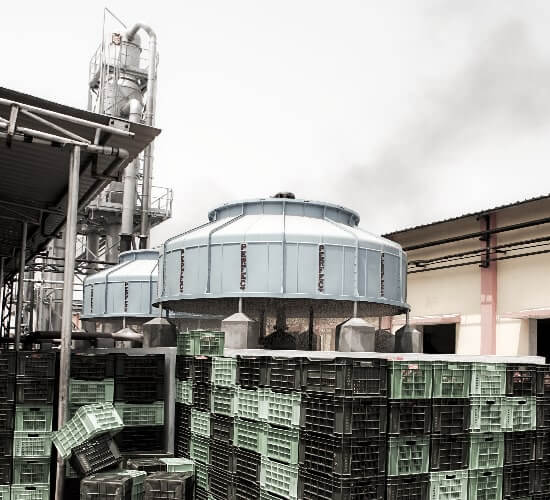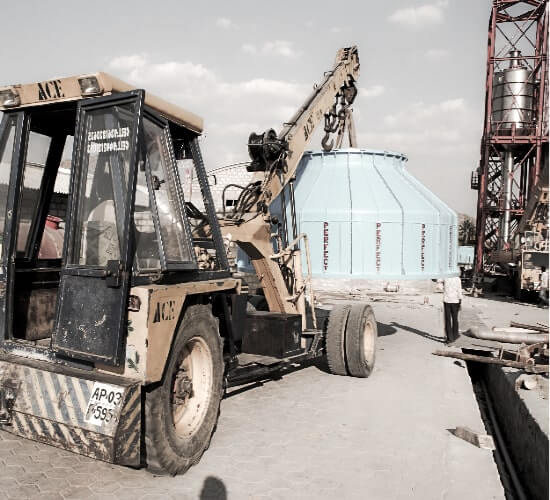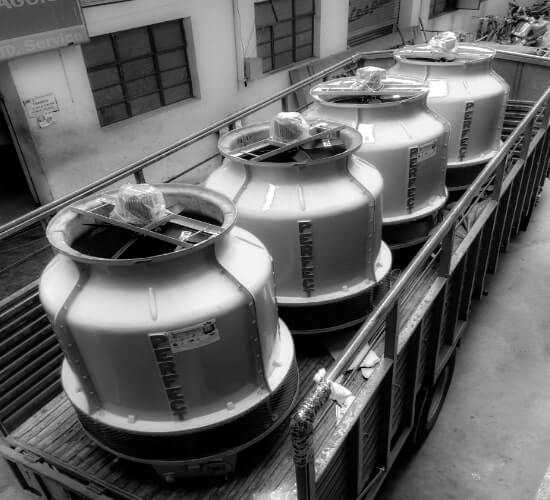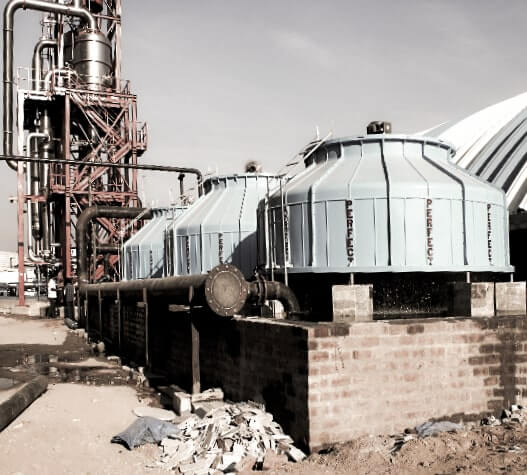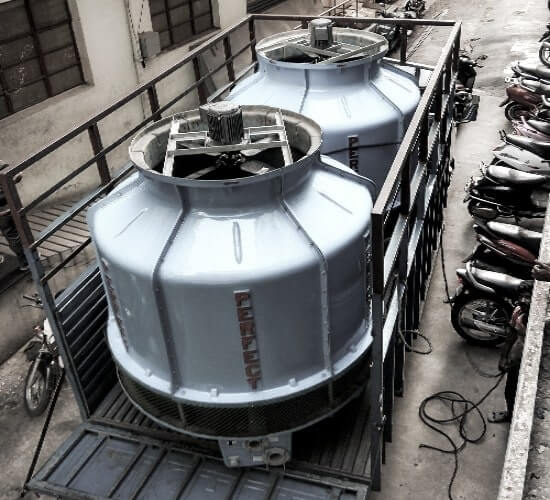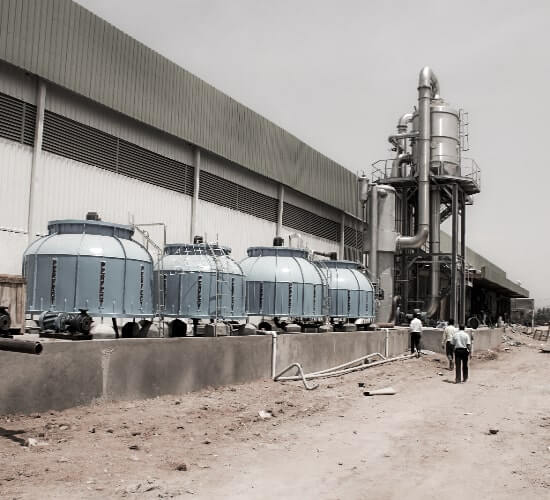 Cooling Towers Sold Worldwide
Million Litres Cooled Per Day
Man Years of Engineering Experience
The Top Benefits Of Choosing Perfect Cooling Towers
The Most Durable Corrosion-Proof Cooling Towers Manufacturer
Increased Operational Efficiency
A cooling tower enhances the efficiency of your system by allowing for reliable heat transfer for your industrial process or HVAC equipment. This keeps your equipment at its optimal temperatures, which helps to conserve energy. Without an efficient cooling tower, your facility can use up a lot of energy, translating to expensive annual operations.
Less Maintenance and Longer Lifespan
Say "goodbye" to replacements. With PERFECT Cooling Towers your maintenance costs will significantly decrease by ensuring the Tower is operating at an optimal capacity. With less maintenance and more output, you'll avoid costly downtimes and increase your equipment's working lifespan significantly.
Lower Risk of Bacterial Contamination
Our modern cooling towers – come with an anti-microbial design. This feature helps minimize the chances of bacterial contamination in HVAC systems and industrial cooling systems.
Why Choose Us
Experience Optimum Efficiency, Our Quality is Unmatched

High Quality Products
Crafted from decades of engineering know-how, We use anti-microbial resin to reduce bacterial growth and source raw material from top quality suppliers to manufacture cooling towers which guarantee the most efficient, maintainable, and cost-effective cooling in the industry.

Affordable Price
We provide high efficient cooling towers at the most affordable price in the market with uncompromising quality to meet your specific cooling requirements.

100% Customer Satisfaction
Perfect unequivocally guarantees the thermal performance of its equipment, when the equipment is installed in accordance with good engineering practice. At Perfect, we provide unparalleled service and support for all types of cooling towers.
FAQ
A cooling tower is heat removal device that uses water to transfer process waste heat into the atmosphere. All cooling towers operate on the principle of removing heat from water be evaporating a small portion of water that is recirculated through the unit.
Do Perfect Cooling Towers systems cost less?
Overall when compared with metal/wooden cooling tower, Perfect Cooling Towers systems cost less. They may have some initial costs that are higher versus the cheapest galvanized tower, but both total operating cost and replacement cost are less.
Do Perfect Cooling Towers systems save water?
Yes, Perfect Cooling Towers systems allow for higher cycles of concentration due to the imperviousness of the High rigid FRP construction to water treatment chemicals and higher solids. This can save many thousands of Rupee in water usage.
Does Perfect Cooling Towers offer a warranty?
Yes, Perfect Cooling Towers offers a warranty. We are confident that due to our design specifications, our products will enjoy a long lifecycle with low-maintenance requirements.
Can the cooling tower system be installed inside and outside?
The Cooling Tower can be installed inside or outside depending on preference and space requirements.
Where are Perfect Cooling Towers systems manufactured?
Perfect Cooling Towers systems are made in the India for the best in quality, craftsmanship, and excellence.
Features
Energy Efficiency / Sustainability / Designed Green / Reduced Electricity Consumption
Direct Drive Transmission
Eliminating the use of pulleys, bands and gear reducers; this reduces maintenance to a minimum.

Durable, FRP Tower Shell
UV stabilized and designed to withstand high wind loads.



Wide Access Doors
Large access doors for easy inspection and maintenance.



Low Noise Level
High efficiency fans directly driven by low speed motors provide low-noise operation level.


TRUSTED BY MORE THAN 10000 USERS GLOBALLY
Capabilities Stretching Across Verticals
Contact Us
No.153/1, 5th Main, 4th N Block,Behind Suguna Hospital, SSI Area, Rajajinagar, Bangalore-560 010, Karnataka, India.
+91 – 80 – 4115 3796, 2314 4134, 2312 3615
+91-96111 34444, 97389 59931, 94482 05694.
sales@perfectcoolingtowers.com